Since 2010, MyPower, Inc. has worked with more than 4,500 5th – 9th grade girls in its MyPower Elementary Mentoring Circles, the MyPower Middle School Edition, and MyPower–Quantum Leadership Camps to empower girls to make wise choices, set goals, succeed academically, and avoid teen pregnancy and risky sexual behavior. For the 2016-2017 school year, MyPower has 831 students in the three Hobbs' middle schools and Caton Middle School (Eunice).  Spring Circles for 5th grade girls as of January 2017 has 208 5th grade girls in its 12-week Mentoring Circles program in eight elementary schools, with the most recent expansion into Jal Elementary School.  We have 97.2% of 5th grade girls enrolled and participating.  We had four camps with 344 girls throughout Lea County who attended the MyPower–Quantum Leadership Camps in late July 2016.
Recent teen pregnancy statistics released by the New Mexico Department of Health are encouraging for Lea County.  Rates are down significantly from 2009; however, as late as 2011, Lea County's birth rates for 15-17 year old remained at the top for New Mexico. Reductions in the 2013 data show Lea County dropping to third in this category. The Hobbs Municipal Schools (HMS) previously announced a huge drop in the number of pregnant high school girls, a 20-year low, despite a record number of students enrolled in HMS.
Changes to the HMS sex education program for 7th – 10th graders were implemented in spring 2013. This change to Abstinence PLUS information, evidenced-based programs was exciting news for the Hobbs community.  Science and health teachers teach factual information, and parents are able to "opt-out" their children from the program. MyPower advocated for this change, and commends the HMS Board for implementing the new policy.
MyPower Offers Three Quality Programs to All Girls at NO-COST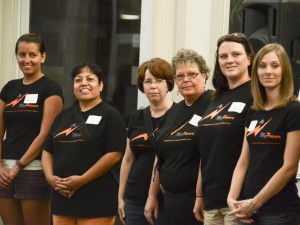 MyPower's Mentoring Circles work with girls in their last year of elementary school (5th grade) and have grown to the following eight elementary schools: Southern Heights, Jefferson, Will Rogers, Broadmoor, Edison, Jal Elementary, Mettie Jordan (Eunice), and College Lane. These Circles are held after school, once a week, for 12 weeks. 50 women volunteer their time to make this program possible each year.  As of January 2017, 208 girls are participating.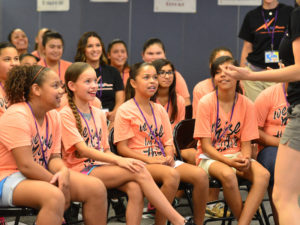 MyPower's Middle School Edition has 831 students as of January 2017 who are participating in our seven session program in the three Hobbs' middle schools and Caton Middle School (Eunice).  These sessions are held during the advisory/home room period and offer an energetic and inspiring study of the Quantum Learning Keys of Excellence and real life scenarios. These sessions are facilitated by MyPower staff and trained volunteers for 6th, 7th, and 8th graders.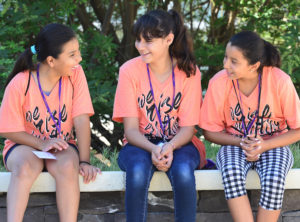 MyPower Quantum Leadership Camps have had 1,435 middle school girls participate in exciting life skills and academic strategy camps at the University of the Southwest campus, Hobbs High School, Freshman Commons, and the Training Center since 2010. These annual camps are held in late summer right before school starts.  Quantum Learning Network of California facilitates the camps, with MyPower providing all logistics.  Many of the hired facilitators are teachers, providing them hands-on teaching strategies to later implement in their classroom.  In July 2016, MyPower-Quantum Leadership Camps had four camps simultaneously for 344 students in the 6th, 7th, 8th and 9th grades.
The Alarming Statistics for Lea County
MyPower was founded in 2009 specifically to address Lea County's alarming teen pregnancy and STD rates.  For years, Lea County ranked #1 in both the 15-17-year-old and 15-19-year-old teen birth categories in New Mexico.  New Mexico has consistently moved between 1st and 3rd place nationally, as of 2016 New Mexico ranks #4. The U.S. leads the industrial world in teen births. While rates are down in Lea County there is still a long way to go.
High teen pregnancy rates hurt communities, as less than 1/3 of teens who begin families before 18 ever complete high school; only 2% of teen mothers complete college before age 30; and the children of these parents are often not ready for school themselves and are more at risk for child abuse.  In New Mexico, the gross impact of teenage parenting is more than $100 million annually.  (Source: The National Campaign to Prevent Teen Pregnancy) Single women who have a baby during the teen years are also at a high risk of poverty.  Nationally, only 6.7 percent of 15-17-year-old mothers are married. None of the 15-17-year-old girls who gave birth at Lea Regional were married.  Only 10 of the 18 to 19-year-old girls in 2014 were married, or 9.5 percent. (Nationally, 16 percent of 18-19-year-old mothers are married.)  National groups use marital status as an indicator of family stability and health.
MyPower, Inc. Founded in 2009 to Empower Pre-Teen and Teen Girls
MyPower's program is Abstinence PLUS information, and is designed to help empower girls in grades 5-8 to successfully navigate the teen years by empowering them to make wise choices, set goals, succeed academically, and avoid risky sexual behavior and teen pregnancy.  These youth development programs provide girls with straight talk about issues they will face as they enter the teen years.  MyPower uses tools such as refusal skills, training and practice with real life situations to prepare these girls.
Specifically, our Abstinence PLUS Information curriculum works to empower girls to think about their goals, and it presents very straight talk concerning sexual issues, including basic facts of life, the importance of waiting, teen STD and teen birth statistics, how to prevent STDs, birth control options and the facts about common myths.  MyPower's straight talk and Abstinence PLUS Information mentoring programs give girls the answers to their questions about the consequences of risky sexual behavior. MyPower utilizes area nurses and doctors who volunteer their time to present the anatomy and facts of life sessions, as well as the teen pregnancy and STD issue in the community.